Crystal Chandelier: Finding the Right one to Illuminate Your Home
The crystal chandelier welcomes friends and family into your home of ultimate elegance and warmth. Their beauty stands the test of time. They are a worthy investment, as crystal chandeliers are truly a work of art to be treasured throughout the years. As you gather information to help you make an informed decision on your chandelier purchase, keep in mind Schonbek crystal chandeliers. Founded in 1870, the Schonbek company's crystal artistry has shone in such esteemed residences as Buckingham Palace and the White House. Schonbek manufactures chandeliers with various types of crystal, including the world-renowned, exquisite Swarovski crystal.
Exquisite Crystals become Dazzling Works of Art
There are many shapes of these luxuriant, crystal sculptures. Which type of crystal chandelier

will make the statement you desire for your home? Let's take a brief look at a few of the styles available from the illustrious portfolio of the most celebrated Schonbek:
Early American – Nothing says solid and traditional more than Early American Schonbek crystal chandeliers. The lines are clean and graceful; understated, yet powerful.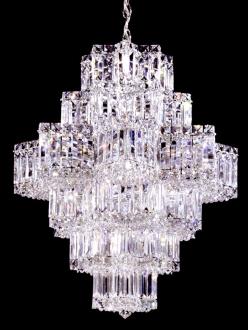 Equinox – The Equinox blends a primordial eight-pointed star motif with modern design, lighting your home with the best of both worlds. The design features complex arrays of rectangular crystal prisms that give a spectacular showering display of rainbow light reflections and those dazzling points of bright light that momentarily catch the eye. This particular image is of the 28″ high product, which has a diameter of just under 23″. As with all chandeliers, you get the hanging chain and long wire lead included. The bulbs are separate, which gives you the choice of finding the most suitable environmentally protective bulbs that you will want. All the chandeliers also come with options to buy the ceiling medallion and silk or velvet chain covers in a variety of colors to suit. And there's FREE shipping on many of the items at LampsPlus
online store, which holds stocks of these and many other genres:
Maria Theresa – The Maria Theresa was originally made in honor of Austrian Empress Maria Theresa's crowning in 1743. This incredible crystal sculpture will take your breath away with its sumptuous curves.
New Orleans – "Laissez les bons temps rouler!" Let the good times roll with the bold, lavish style of New Orleans. Everyone who enters your home will be in awe of this exquisite crystal chandelier, as it enraptures you like a night in the French Quarter.
The timeless Olde Worlde chandelier lights up a home with crystalline Bohemian beauty, echoing the rich heritage of Schonbek's European beginnings.
Rivendell – Drawing on artistic inspiration, the Schonbek Rivendell chandelier style brings the patterns and shapes of nature into your home. An interesting mix of primitive metalwork and small crystals makes the Rivendell unique.
Romanoff – True to its namesake, the Romanoff illuminates the world with the richness of its crystal grandeur. An intriguing mix of cultures inspires this style: Imperial Russia, Byzantium, and Egypt.
Scheherazade – The opulent and intricate design calls to mind an exotic Persian night.
Timbrel – Step back in time. The Middle Ages lends inspiration to rustic flair. Wisps of daydreams and solid simplicity meet in the Timbrel.
Versailles – No other word but "sublime" describes the Versailles chandelier. Light your home with the same artistic elegance that glittered in Louis XIV's palace.
Victorian – Harkening back to elegant charm, the Victorian replicates the intricate decorativeness of its namesake's era, complete with crystalline fringe.
Posted: March 25th, 2006 under crystal chandelier.
Tags: crystal chandelier, LampsPlus, LP, Schonbek
Write a comment